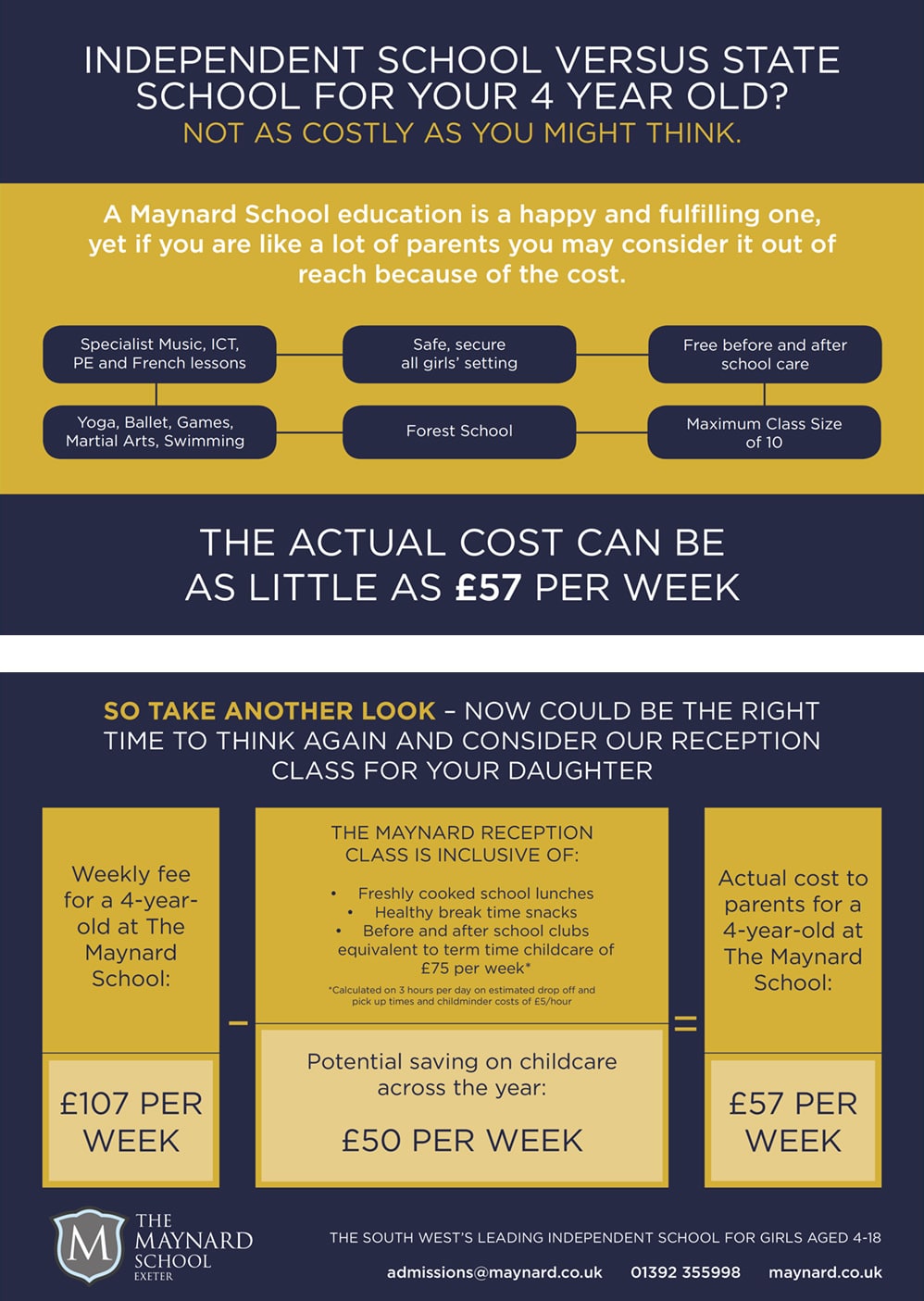 ---
An independent education is not as costly as you might think
Many families assume that they cannot afford to pay school fees for their child to be educated within the independent sector but it really is not as expensive as you think.
There are now more children in private schools than at any time since 1974 when records began largely because, through bursaries and scholarship offerings, the independent sector has become so much more accessible.
Reception class savings
Annual fees for a 4-year-old at The Maynard are £5565 or just £107 per week when averaged out across the year.
However, the extended full day with free supervised activities from 8am until 5.30pm can save as much as £75 per week in the equivalent childcare costs (calculated on 3 hours per day on estimated drop off and pick up times and childminder costs of £5/hour). Not forgetting a free home-cooked lunch and after school snack, making the potential savings even greater!
When all of this is factored in, the actual cost to parents for a 4-year-old to attend the Maynard School is only £57 per week. As your daughter moves up to the Junior and Senior School, there is also the potential to apply for one of our bursaries and/or scholarships.
Why choose an independent school for your four-year-old?
Studies prove that the standard of reading and mathematics at independent schools already exceeds state schools even at the age of four. It is also fact that children who have an all-through education in the independent sector also gain the equivalent of an additional two years in education.
The Maynard Reception class is currently capped at a maximum size of just 10 pupils as opposed to many state schools where the average class can be as much as 25 or even more. With a specific class teacher, in addition to a teaching assistant, our pupil-teacher ratio is as little as 5:1 meaning your daughter will have more effective teaching and individual attention from the minute she crosses our threshold.
Significant added extra value
Girls in our Reception class also all enjoy as part of their curriculum:
Specialist Music, ICT, PE and French lessons
A bespoke phonics programme, grouped in very small classes (the smallest being only two girls!) according to ability rather than age
Yoga, Ballet, Games, Martial Arts and Swimming
Forest School
Educational trips and excursions
Regular arts and crafts sessions
Numerous performance opportunities
As they progress up through the School, all of our students will have access to some of the very best facilities on offer in the South West for Sport, Drama and the Performing Arts.
Why single sex works for your daughter
As an all-girls school our pupils can play in a carefree manner; their games take precedence in the playground and they aren't pushed to the corners by a game of cricket or football, fearful of being hurt by a flying ball.
In the classroom, the feel of the lessons is different… the way the girls act, the teachers interact, the rapport established between girls and teachers are all based on gender based pedagogies that cater better for the learning of girls.
Find out more why we believe single-sex is best here.
Independent education is a personal choice but it is no longer elitist or out of financial reach for thousands of families. As budget cuts affect our state school system, there really is no better time to visit The Maynard to see what well-rounded, community-spirited, aspirational and talented young girls are blossoming within our gates.