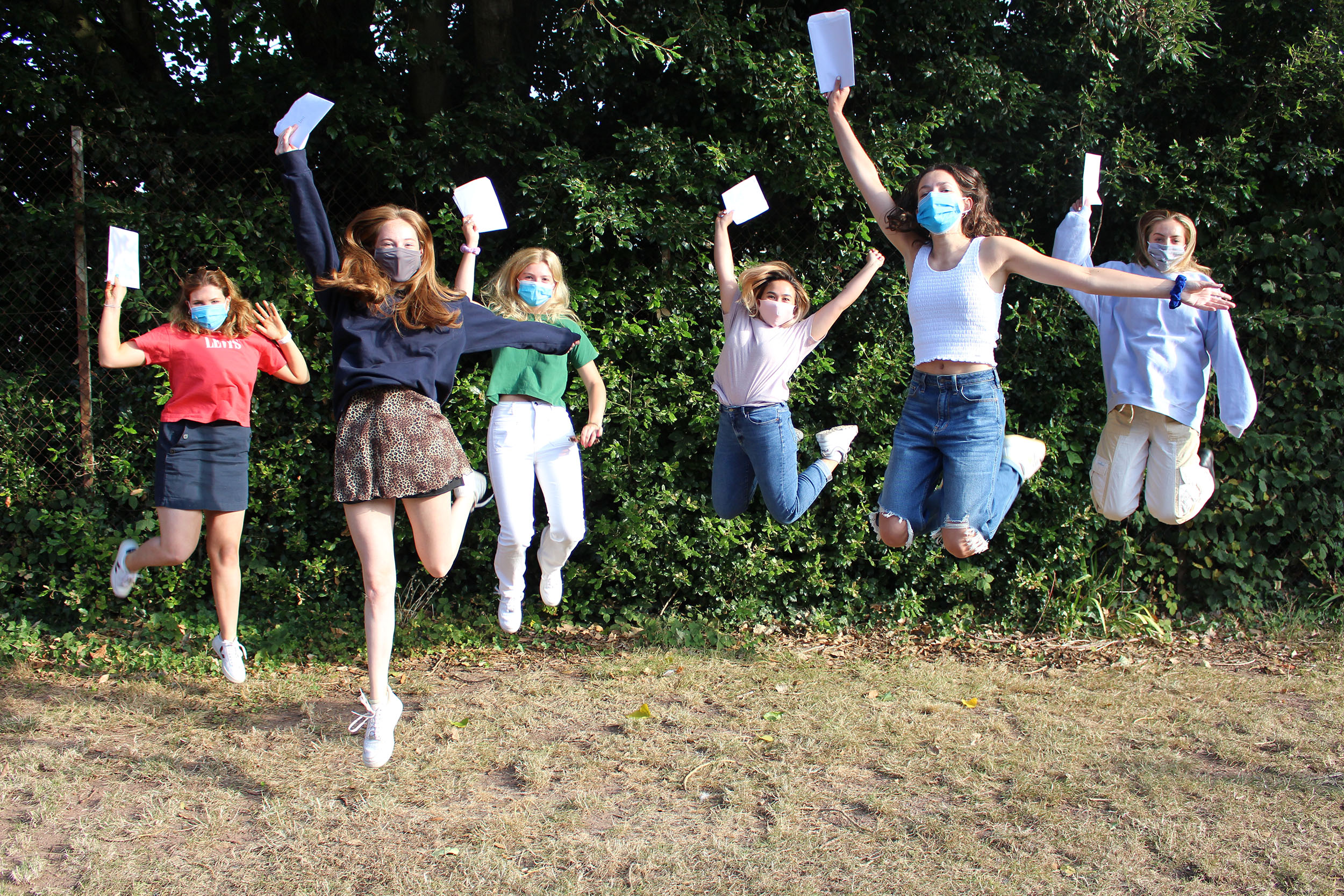 It's fair to say that today's was no ordinary Results Day and understandably we were greeted this morning by more nerves than ever with no-one really knowing what to expect after such an extraordinary past few months. However, in the end there were many joyous smiles and family hugs.
One such, was Isobel Pinsky who brought her gorgeous tiny puppy, Hazel, in as her mascot only to find she had scored a clean sweep of A*s in French, Biology and Drama. "I loved all of my subjects and didn't really think about any desired career path when I chose them as I always knew I wanted to go into Drama. I just did the ones that I genuinely enjoyed." Earlier this summer, Isobel was awarded a very exclusive scholarship to the Mountview Academy of Theatre Arts in London. "I auditioned at a regional audition in Exeter and then I got a remote recall as it was during lockdown, so I had to record half an hour of singing and dancing to routines they had sent me on top of some acting monologues. Two weeks later I received a call from the Headmaster to offer me a place and, a week after that, they offered me the scholarship. Having the financial assistance is brilliant and I have been working all through lockdown to pay for my food and other things when I go to London."
Outgoing Head Girl, Emma Murphy, was another to achieve her ambitions, gaining the required A*AA to read Law with Anthropology at the London School of Economics. Not one to kick back and relax, Emma has taken the bull by the horns during lockdown, working full time on the NHS 'track and trace' hotline number whilst also teaching herself to cook on an online course to prepare for the forthcoming ski season ("fingers crossed it will still happen").
One student who very much has had to make a U-turn due to COVID-19 is Olivia Taylor who last September became the only female to successfully gain a place on the Skyborne EASA Integrated ATPL training course to become a fully qualified airline pilot – at the time, a long held ambition of hers. However, with coronavirus wreaking havoc on the aviation industry, Olivia changed her plans and, only a week before the June deadline, met up over Microsoft Teams with her tutors to prepare and submit her UCAS application.
"I ended up with four offers and Bristol let me defer for a year to read Geography so I'm going to have a gap year and just relax. I still dream to be a pilot one day but right now securing some great qualifications seems a safer bet and maybe I will combine my love of geography to explore the world as a pilot in due course."
One thing is for certain: this might have been a somewhat extraordinary year for A-level students across the land but it has been another outstanding year for The Maynard School and its students.
"Once again, I am so proud of them all. The stoicism and pragmatism that they have shown these past few months has been extraordinary, and they deserve full recognition for all their hard work over the past two years," said Sarah Dunn, Headmistress. "As such, we felt it absolutely necessary to make their Results Day as inclusive and memorable as possible. It was truly wonderful to see the Upper Sixth again (albeit with social distancing) and to be able to celebrate together their extraordinary efforts and achievements during their Sixth Form. Without a doubt these girls have very bright futures ahead of them and I wish them all the luck in the world for their onward journey."