In today's world, where technology is constantly changing, individuals will increasingly need skills that include the ability to design and implement computing solutions. The impact of technology on society is enormous and the need for individuals who can master and manipulate new technologies is growing all the time.
A-Level Computing encourages students to develop the capacity to think creatively, innovatively, analytically, logically and critically, gaining an understanding of the organisation of computer systems and developing skills and knowledge of programming and coding. Students will also gain an awareness of emerging technologies and an appreciation of their potential impact on society.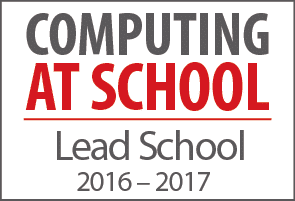 Sixth Form students have access to a dedicated Sixth Form Study Centre with up-to-date PCs connected to the school's LAN (local area network). In addition, there is a bank of laptop computers which have wireless connections to the school's network and can be used anywhere on the school site. Each department has its own computers running specialist software. White boards and projectors can be found in laboratories and classrooms throughout the school. We update our computer systems each year so that our students have high quality technology at their fingertips.
The school's Virtual Learning Platform and individual E-Portfolios, which students have access to inside and outside school, provide access to a wide range of materials and information to support learning across the whole curriculum. A wide range of software is available for use including the Adobe Creative Suite: Dreamweaver, Photoshop, Flash, Premier and Illustrator. The department also has a video editing and animation suite along with access to a range of digital video cameras, digital cameras and iPads. These are used within Computing lessons and as part of the extra-curricular programme.
Every student is allocated file space on the network servers in which to store her school work. The network also provides internet access with external email and the internet. All users are expected to act responsibly; every student signs an Acceptable User Policy and staff provide tutorials for students and parents on safe use of the internet.
Our girls will also have a range of guest speakers on the course, with the aim of educating and encouraging in relation to a career in Technology and the options available to them.