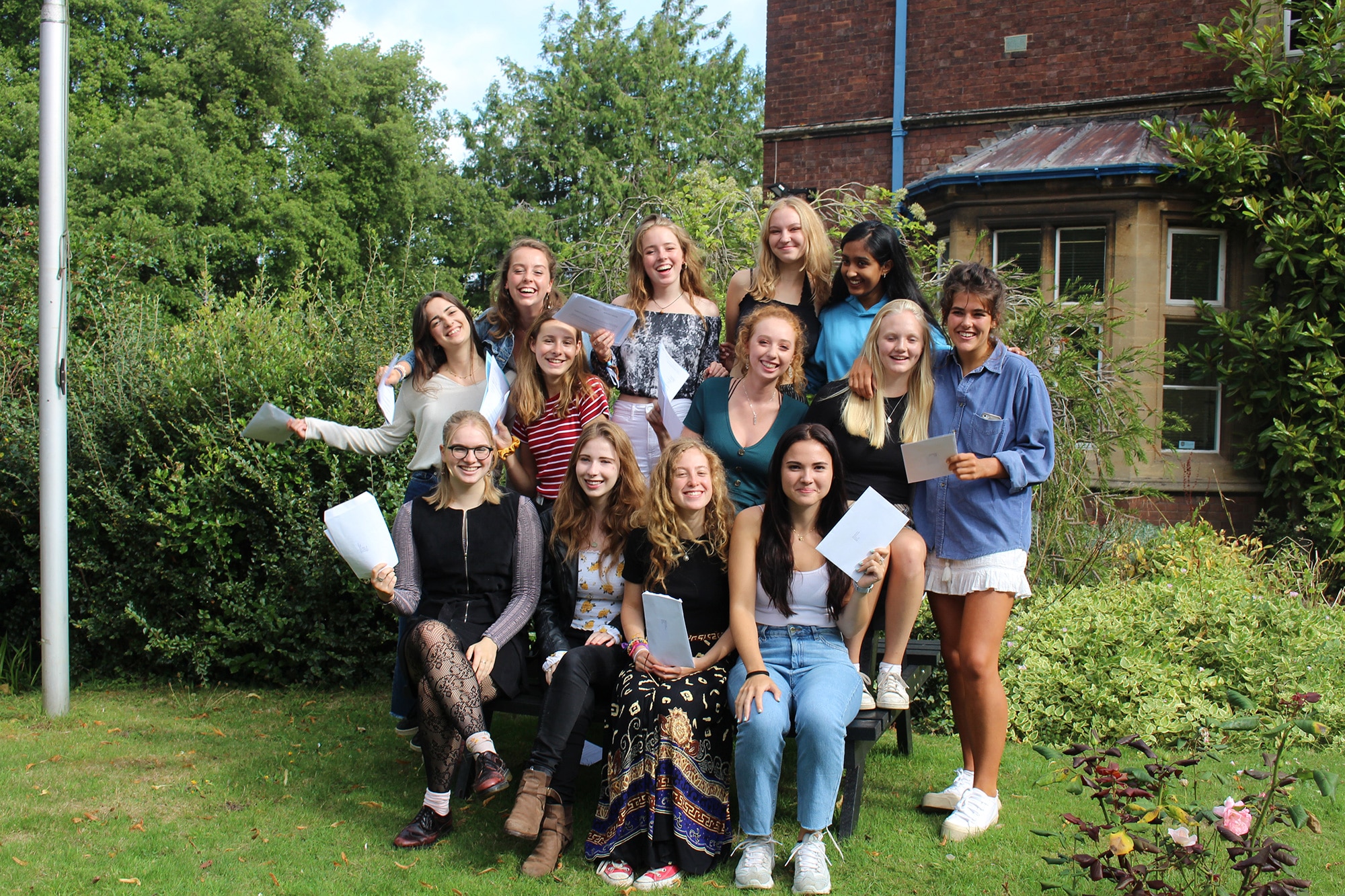 Top Independent School in the South West and 60th nationally in The Telegraph's A-level League Tables (August 2019)

60.4% of all grades were A*– A

44% achieve at least three straight A*s or As at A-level
This remarkable Maynard cohort have posted a staggering set of results and another 100% pass rate. Over 60% achieved A* – A with an impressive 44% scoring at least three straight A* or A grades in their subjects, bucking the national trend of 25.5% achieving an A grade or higher.
Jessica Carr not only achieved four straight A*s in her Maths, Further Maths, Physics and Chemistry A-levels and a further A* for her Extended Project Qualification (EPQ) but she also scored a flawless 100% in the incredibly testing Edexcel Maths paper 2, putting her as one of the country's top A-level mathematicians. From a possible 300 points for the two individual papers combined, she dropped just 11 marks to score a remarkable 289.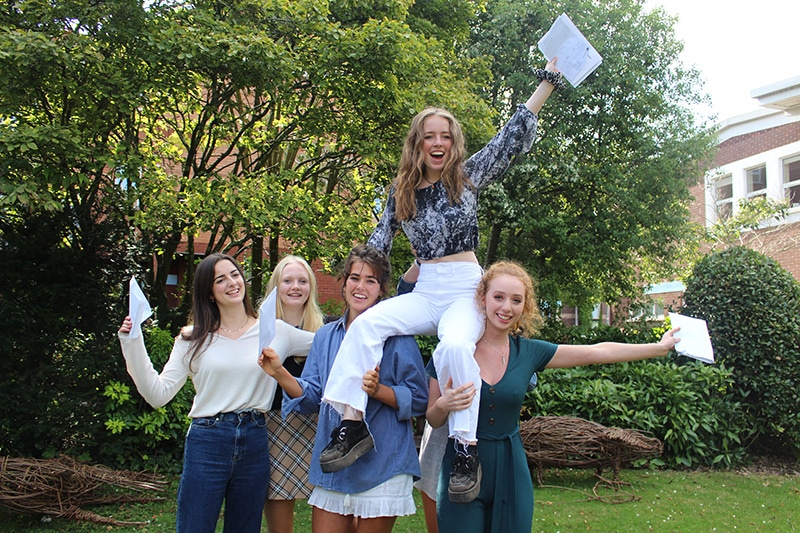 It is a befitting performance for the talented teenager who is no stranger to the stars having lectured at the nearby Norman Lockyer Observatory since the age of 15.
"It's really enjoyable and I absolutely love it. It's great to tell the public all about astronomy and the stars as everyone is so enthusiastic. It's something I intend to continue doing although I'm also really looking forward to going to the city to read Mathematics at UCL. My father is in economics and two of my brothers are doing Maths so it runs in the family!"
Another of those to have excelled is Isobel Harding Perrott who was awarded two A*s and an A in English, History and Latin with a further A* for her EPQ. Isobel came to the Maynard on a Sixth Form Scholarship having taken her GCSEs a year early and using the year in between to teach herself Latin (she scored an A* at GCSE).
"My brother is doing Medicine at Cambridge and I remember visiting him once when I was about 13 and thinking, "wow, this is so pretty". Then I found out about the Anglo-Saxon, Norse and Celtic course there and knew immediately that would be the perfect course for someone like me who loves myths and legends. So from that point on, I have had a one track mind and luckily it has all paid off. I can't wait now to join my brother for his final year and I think he's actually quite excited, too!"
Across the board, the Maynard students are pursuing a huge range of options at degree level with an almost perfect 50/50 split between Arts and STEM subjects – from English, History, PPE and International Relations to Mathematics, Economics, Architecture, Medicine, Physics and Engineering. It is especially pleasing to see such strong representation of 50% entering the STEM subjects and in particular engineering fields, where nationally women only represent 19% of students.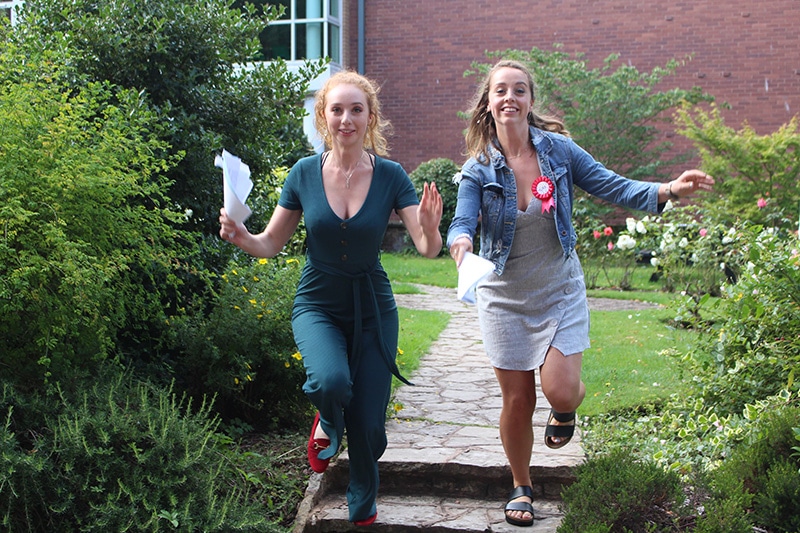 Twins Alice (A*AAB) and Ellen (A*AA) Brion are both off to study Mechanical Engineering at Bristol and Warwick respectively. Alexandra Pavic (A*A*A) has capped off a fantastic school career with a place at Imperial to read Geophysics; this is remarkable bearing in mind that she has also found the time to reach Diploma level on two instruments along with three Grade 8s! She will be joined there by Cherise Xia for Physics (A*A*A*A*) and Linda Liu (A*AAA) for Biology. We are also thrilled that we have our first Engineering Degree Apprentice this year: Jemima Goulding, an Ogden Physics scholar and bursary recipient is off to work and study with Rolls Royce in Bristol, completing a degree in Non-Destructive Testing. Head Girl, Daisy Birkin (A*AAA) is leading a large contingent to Durham to study Economics and we are particularly glad that her great friend and ally, Chloe Lamb (A*A*A) will be joining her!
The humanities are equally well represented: Eve Stevens, a prominent environmentalist at the school, achieved a clean sweep of four straight A*s and will join Alice Sara (A*A*A with an A* in EPQ) to read English Literature at Edinburgh whilst Gaia Clark Nevola (A*AA) will follow in her parent's footsteps to read the same subject at Oxford. "It's always been a bit of dream but I never really thought it could happen so I am absolutely thrilled!"
One thing is certain: this has been another outstanding year for The Maynard School and its students who not only have an enviable record for their academic supremacy, but should also be applauded for their incredible extra-curricular achievements.
"What all of the young women here have achieved is staggering!" said Headmistress, Sarah Dunn. "One minute they are trudging across the moor in the Ten Tors Challenge, receiving their gold Duke of Edinburgh Awards at Buckingham Palace, winning literary prizes from Oxford University, heading up another entrepreneurial venture as part of the Young Enterprise team or fighting a heartfelt cause as one of our Eco Warriors, playing at the Albert Hall or treading the boards at stages across the country and then the very next they are topping the country's statistics as some of the most talented A-level students in the UK. How they juggle these incredibly busy lives leaves me in constant awe and I am so proud of each and every one of them. There is now doubt the brightest of futures beckon for them all. It has been our pleasure and honour to have them at the school and I wish them the very best of luck for the next chapter!"