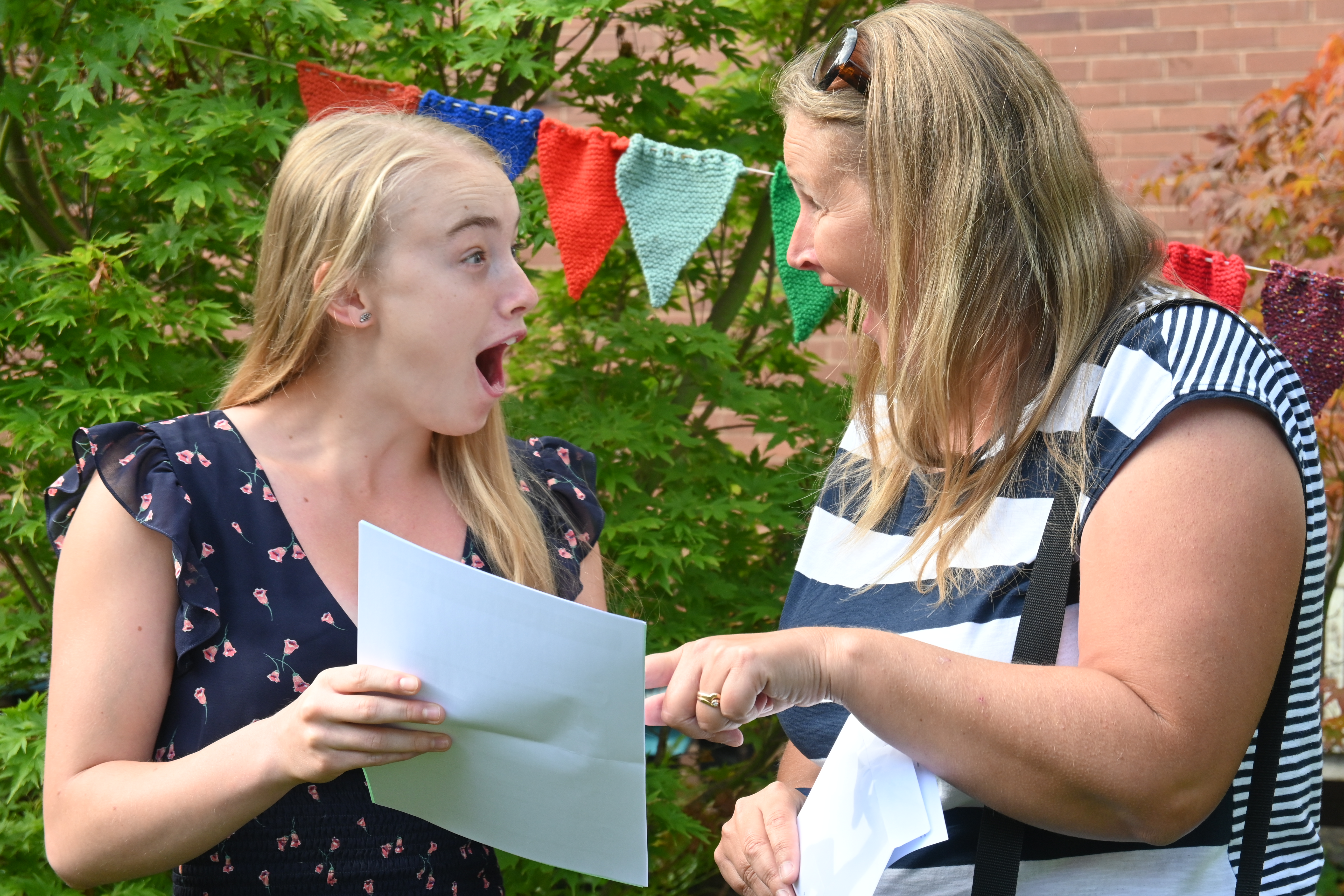 GCSE RESULTS: Best set of results ever
A record 34% of all results are graded 9 (A**) – versus 5% nationally
This is 10% higher than the Maynard equivalent in 2019
Three quarters of all results are Grade 7 (A) or above – versus the national average of 22.4%
Well over half of exams sat are graded 8 or 9.
Students, families and teachers alike at The Maynard in Exeter were celebrating the best set of GCSE results ever achieved at the school with a record 34% of Grade 9s – absolutely bucking the national trend and higher even than the inflated grades of 2020-22 when Centre Assessed and Teacher Assessed Grades replaced real exams.
"It's utterly brilliant," said Head, Liz Gregory, "And I couldn't be happier for them all! When you compare these results to our equivalent in 2019, we are averaging 10% higher grades across practically every statistic. I'm not sure there are many other schools in the whole country who can claim to have done this and it certainly is bucking the national trend where top grades were on the decline this year. That said, it really is just rewards for such a hardworking and industrious year group, not to mention their brilliant teachers. A very well done to them all!"
Kristina: Straights 9s and 100% in English Literature
"I'm very shocked!" said an ecstatic Krissy. "I actually forgot to open half of my results – I opened the AQA one, saw my results and thought 'let's just call it a day!" Unbelievably, and in a record for any student sitting English Literature at The Maynard (and as a compulsory subject at GCSE, there have been thousands and thousands to take the exam), she was awarded an incredible 100%. "It's the one that I wanted to do most well in so I'm very, very happy."
Not only super bright, Krissy is also an exceptional musician and has a Grade 8 in piano, saxophone and violin (gaining her Diploma in violin last summer). "I sort of put my music down during GCSEs so I could focus as it's quite time-consuming, but I'll pick it back up in the Lower Sixth, I think."
Interested in pursuing a career in law, she is looking at taking English Literature, Maths, Chemistry and Biology at A-level.
Joey: Straights 9s and just one point off a perfect Maths score
Joey not only scored a clean sweep of Grade 9s in all of her subjects, but she also achieved a stunning 239 out of a possible 240 marks in Maths. She says her results "were completely unexpected" but a lovely surprise all the same! "I was really nervous as I've had such a great summer that I'd completely forgotten about GCSEs and then it suddenly hit me this morning!" Asked how she was planning to celebrate such utterly brilliant results, she announced: "I'm going to make a mango dessert for my family and neighbours!"
Joey plans to take Physics, Chemistry, Maths and Further Maths at A-level alongside completing an EPQ (Extended Project Qualification), with the ambition of becoming a material scientist in the future.
Isabelle: Bedbound with ME but still smashing it!
In quite the most epic of stories to emerge from this cohort sitting their GCSEs is Isabelle who was so ill with ME that she was bedbound and unable to even attend school from October last year until January. For the past 10 months she has been battling extreme exhaustion, when possible only coming into school for the mornings and doing all of her revision from her bed. But this didn't stop her and, quite brilliantly, she achieved four 8s and three 9s in her exams.
"I'm a bit speechless but very impressed with myself! My attendance this past year has only been 45% due to the ME so the build up to exams was very stressful. I've suffered immense drowsiness, terrible headaches and there were times when I couldn't even read. For the first month I could barely walk but even though I'm so much better now, it still affects me quite a lot so I can honestly say these results are a complete surprise!"
Isabelle will now take Art, Maths and Physics at A-level with a view to going into a design or architecture career further down the line. In the meantime, however, she plans to celebrate by "having a little nap."
Meanwhile, her justifiably proud parents were quick also to thank all her teachers, saying: "These results have given her so much confidence and I can't credit The Maynard enough. She's obviously put a lot of hard work in but without the teachers she would have really struggled. They have been amazing in their support and we are very thankful!"
Harleigh: British acrobat and super brain
Quite possibly one of Britain's brainiest acrobats, Harleigh achieved all Grade 7s and above in her GCSEs – an incredible feat given she also juggles her academic studies with 15 hours of acrobatic training every week – something she has been doing since she was just 7-years old. Earlier in the summer, and just four weeks after sitting her GCSEs, she was competing at the British Championships in Sheffield where her trio finished within the top 10 in the country despite some serious injury concerns going into the event.
"Admittedly, it's been quite full on and I never missed a single training session during GCSEs, but it didn't help that I had severe back pain as well and could barely walk. My back bones were dislodged and I had a rib in the wrong place – I couldn't even open a door and I had to sit some of my exams with an ice pack."
Emma: National swimming superstar scores all 8s and 9s
"I just very relieved and happy that it's all done," said Emma after discovering that she had achieved all 8s and 9s. "I've not slept very well these last few weeks and have had recurring dreams that I'd failed them all!"
She is another of our superstar athletes who juggles a gruelling training programme with her academic studies, squeezing in 10 hours a week at the pool. Earlier in the holidays, Emma competed in the Belgium Nationals, finishing in the top five in the 50m, 100m and 200m backstroke. "Then I went to the English Summer Nationals which is an invitational meet only for the top 22 in England. I swim for fun really and enjoy competing, so hope to carry it on!"
Being such an incredible academic allrounder does have its drawbacks and Emma isn't 100% sure yet which A-levels she might take. "I'm going to start with four – I know that. And I'm thinking of Biology, Chemistry, English and Psychology or that sort of a mix with the idea of possible studying medicine in Belgium (where her parents are from) after school."