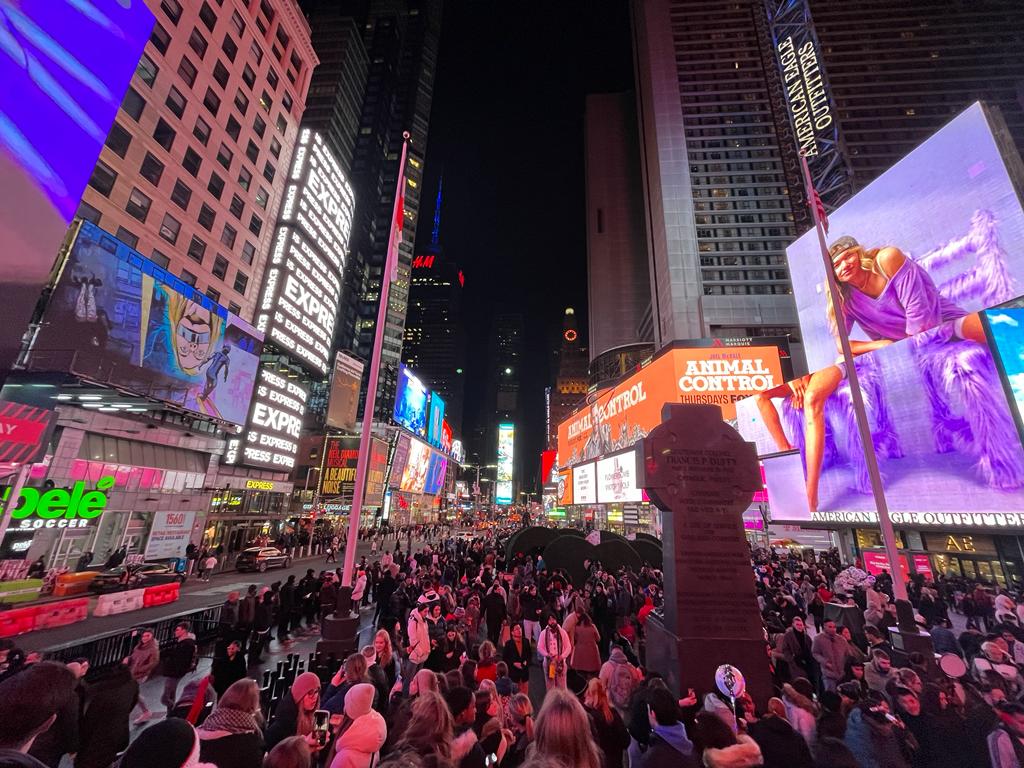 Maynard was busier than normal for 2am on Friday 10th February, as 45 students and five staff gathered, with passports in hand, and set off for Heathrow airport, bound for New York…
…or so we thought.
It was only after we began our early check-in that we were told our flight would now be delayed until that night – and so our adventures began. We completed our check-in and, travelling light, we decided to make the most of the day and 'do' London. After a small struggle with buying 50 travel cards, we made our way to Covent Garden for breakfast in the sunshine. Then a trip to the Imperial War Museum, and finally returning to the airport via a short visit to Buckingham Palace! To our great relief, our flight was back on and now we just needed to confirm new bookings for some of the activities we had lost due to our delay.
When we finally arrived at JFK, we met our new coach and were transferred to our excellent hotel in the heart of Manhattan, overlooking Madison Square Gardens. The following morning, after a lazy(ish) breakfast in the hotel, it was then only a short walk to our first destination – and we even had a little time on the way for a bit of retail therapy at Macy's, before to arriving at the Empire State Building and making our way to the top to experience this unique view of New York from such an iconic landmark. We suspect there aren't many people who can claim to have visited both Buckingham Palace and the Empire State Building in the same 24 hours!
From here onwards, our original itinerary began to reset, as we made our way to the world famous Metropolitan Museum. The culture, art and artefacts on display were simply breathtaking. From here, we made our way down Fifth Avenue and across Central Park to one of the highlights of the trip for many: ice skating in Central Park as dusk fell and the night skyline began to light up around us. We then made our way to our restaurant for dinner, via a bit of sightseeing that included a Eurasian Eagle Owl that had just escaped from the Zoo and, of course, walking through Time Square at night.
Sunday morning saw 50 of us negotiating the subway (the joy of getting everyone through the ticket barriers in one go is something to behold) en route to the ferry taking us out to the Statue of Liberty, where we climbed up to the Pedestal Level to look back on Manhattan. After learning a little of the history of statue, we sailed on to Ellis Island to visit the Museum of Immigration, where so many first-generation immigrants were processed, or just simply turned back. On our return, we made our way up through Wall Street on our way to the 9/11 Museum at Ground Zero. It was a haunting experience to walk the very streets that had been consumed by the dust and debris of that fateful day and the museum and waterfalls really did justice to the nearly 3000 lives that were lost. From here we then made our way to an early dinner on Broadway, before seeing a spectacular performance of Chicago. What an extraordinary day.
Monday was another early start as we stored our luggage, grabbed our passports once more, and made our way to the United Nations for our guided tours of the principal chambers and behind the scenes of this fascinating and inspirational place. From the UN, we made our way to Grand Central Station to make the most of the Dining Halls for some lunch and, of course, a photo opportunity by the central clock. With our flight departing that evening, we now had just enough time for some serious shopping and, when we returned to the hotel, many of our girls had the final challenge of squeezing all their new purchases into their suitcases!
Our flight home was thankfully far less eventful, arriving back at school on Tuesday afternoon. From here, 45 quite-tired students could finally head home for a well-earned and long-awaited rest!
I'd like to finish by saying a huge thank you to all the students and staff involved in making this trip such a success. We hope we have made some memories that will last a lifetime.
Dare I say, it won't be long before we start planning the next one…
– Mr Tabb, Head of History