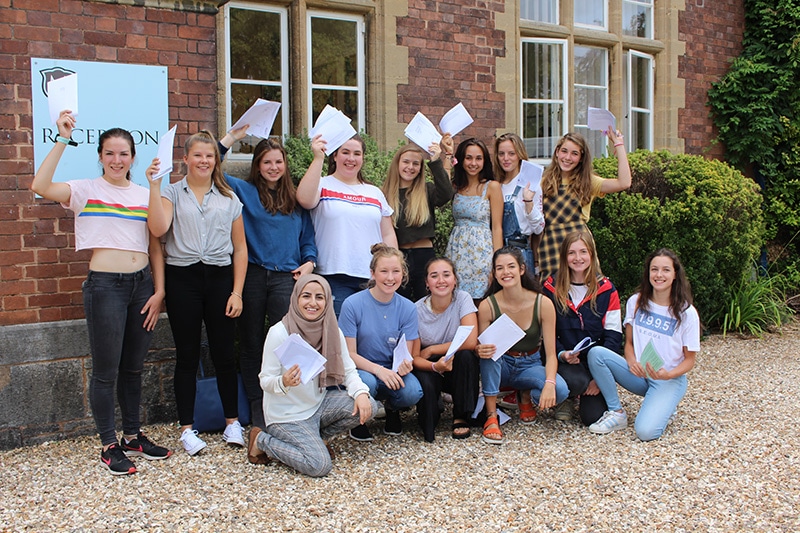 After the success of last week's A-Level results, The Maynard School is thrilled to have achieved another outstanding set of results at GCSE level. In a year of uncertainty and change with the well-publicised reforms to the Year 11 examination system, our students have performed superbly to triple the national average of the top grades of 7, 8 and 9.
There were some remarkable results across the academic departments; of the girls taking Physics, an enormous 90% achieved grades 7-9, the equivalent of an A or A* (and 43% gaining the top scoring grade 9). In fact, across all three separate sciences 87% of the students gained grades 7-9 (A* or A). 93% of those taking Drama scored 7-9 (35% with a grade 9) and History was also impressive with 70% achieving 7-9 (24% with a grade 9).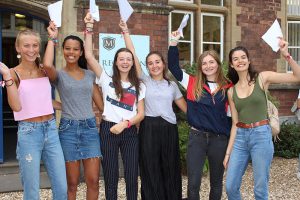 The aim of the new grading system was to introduce a greater degree of academic rigour to these exams and we are delighted with this outcome. Most significantly, and testament to their all-round academic brilliance, the year group clocked 68.5 for their Attainment 8 score. This is similar to last year's score which was the highest score for an independent school in Devon.
"We are delighted that the girls have done so well in these more rigorous GCSEs giving them a great foundation to start their A-levels. Remember that grades 7-9 equates to the old A/A* and to have so many in that zone makes me very proud of the girls' achievements." said Sarah Dunn, the Headmistress.
"Let's not forget, either, that these girls juggle their academic studies with huge success in other individual and team pursuits. Many are supreme musicians or dramatists, sportswomen and horse riders. Many more are showing tremendous entrepreneurial flair and excelling in essay and STEM competitions. I cannot praise them enough for their positivity and spirit throughout these past two years and, as the trailblazers to this new grading system, they have certainly set the bar very high."
Outstanding achievements
–       Alyssa Gibbons
Alyssa, from Whitestone, gained five Grade 9s and five Grade 8s and will study History, Economics and Maths at A-level. Alyssa is an exceptional musician (currently studying for Grade 8 Clarinet as well as playing the Saxophone and Piano) and a member of numerous choirs and orchestras, including the Devon Youth Symphony Orchestra. She has also performed with the BBC Symphony Orchestra at the Abbey Road Studios. Alyssa hosts her own hugely successful website – https://fictionforteens.com – where she posts regular reviews of the latest book she has read; this is proving to be a useful tool for fellow teens and their parents alike.
"I am really relieved as no one knew what to expect with the new GCSEs. Now that today is here and I've got my results, I feel excited to go into the Sixth Form and start my A-levels. I came out of the exams feeling ok but because of the new system, I didn't know what to expect so I am very happy today!"
–       Amelia Moody
Amelia gained six Grade 9s, three Grade 8s and one Grade 7. A superb all round athlete, she has represented the South West at national level for cross country running and is regularly seen training on the Dartmoor Tors near her home, come rain or shine, light or dark. She is also a keen horse rider and musician. Amelia will join the Sixth Form to take her A-levels in Biology, Chemistry and French, with the ultimate goal of becoming a vet.
–       Ruby Jarman
Ruby achieved four Grade 9s, three Grade 8s, one Grade 7 and one Grade 6. A sports scholar at The Maynard, Ruby plays Hockey and Squash at a regional level, fitting her training in with her studies. She will join the Sixth Form to take A-levels in Chemistry, Biology and English, with plans to study Medicine at University.
Other outstanding achievements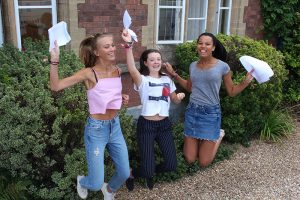 Clemmie Little who gained seven Grade 9s, two Grade 8s and one Grade 7 and will study Maths, Further Maths, Biology and Chemistry at A-level.
Amber Willams with five Grade 9s, two Grade 8s and two Grade 6s. Amber will study History, Economics and Geography at A-level with plans to study either Law or Business at University.
Emma Murphy with four Grade 9s, two Grade 8s, two Grade 7s and a Grade 6 and plans to study Chemistry, Biology and English at A-level.
Sara Al-Seaidy who achieved three Grade 9s, four Grade 8s and three Grade 7s. Sara will study Maths, Physics and Economics at A-level and hopes to go on to read either Computer Science or Cyber Security at University.
Isabella Flashman who gained two Grade 9s, five Grade 8s and two Grade 7s.