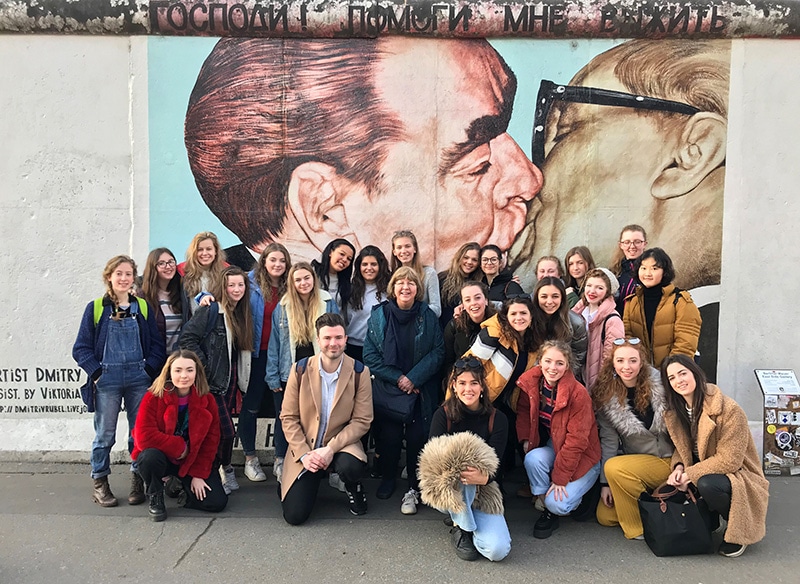 During the half term break, 23 Lower and Upper Sixth students took part in a History study trip to Berlin. We had an action-packed schedule and the students experienced in real life much of what they had learned about in the classroom.
One of the most memorable tours was that of the charming Cecilienhof in Potsdam where the famous Potsdam Conference took place at the end of World War II. It was extraordinary and somehow ghostly to be in the room where Stalin, Attlee and Truman made decisions that had such a huge effect on world history. The section of the Berlin Wall decorated with a wide variety of street art, mainly depicting the futility of war and the desire for peace and the preservation of the planet, was another great favourite and many photos were taken in front of some of the most striking paintings. The most sombre part of the trip came on Sunday when we visited the former concentration at Sachsenhousen. Whilst walking up to the camp from the railway station we followed a part of the Death March taken by some of the inmates at the end of World War II.
Arriving at the camp in sombre mood we spent the next two hours absorbing the unimaginable horrors and cruelty in the grim atmosphere of the surroundings, made somehow even more painful by the glorious sunshine. On the last day we had a fascinating tour of the Bundestag (former Reichstag) where we sat in the debating chamber and saw how different the semi-circular shape is to our own House of Commons which leads to much less confrontation. It was extraordinary, too, to see the graffiti written by the conquering Russian soldiers at the end of the war still visible on the parts of the original Reichstag walls. We had wonderful views from Norman Foster's amazing glass dome in the bright sunshine and clear blue skies and afterwards sat outside in Unter den Linden having lunch.
We also experienced the height of the Cold War at Checkpoint Charlie and the interactive DDR museum as well as sampling some Berlin café life in the evenings. It was a huge pleasure to take such a brilliant group of students away and I hope the experience will have added to their A-level studies as well as providing them with a flavour of present day life in such a fascinating city!