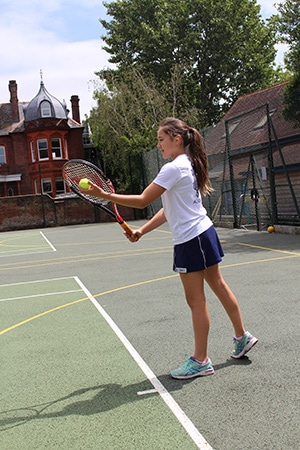 The Maynard Tennis Academy is an extensive Tennis Programme enabling pupils with all levels of ability to experience the game and to maximise their individual skills and talents. The Academy is run by our Professional Tennis Coach, Jon Rycroft. Jon has coached racket sports to over 10,000 students , working all over the world teaching different levels from total beginners to world ranked players. He is a LTA qualified level 4 CCA coach, PTR professional coach and a Squash Elite coach (Level 4). Jon was also a Junior Tennis and Squash County player for Sussex and competed in the Junior Championships at Wimbledon.
The Tennis Academy is run all year round for pupils from Year 3 – Upper 3 (Year 7), with lessons taking place either before school or during the lunch break. Jon and his team offer group lessons as well as individual lessons. The Maynard Tennis teams compete in the LTA Aegon leagues and play in regional tournaments against many different schools in the area – they have also reached the South West finals on several occasions.
For more information email Jon on [email protected] or call 07851296713.