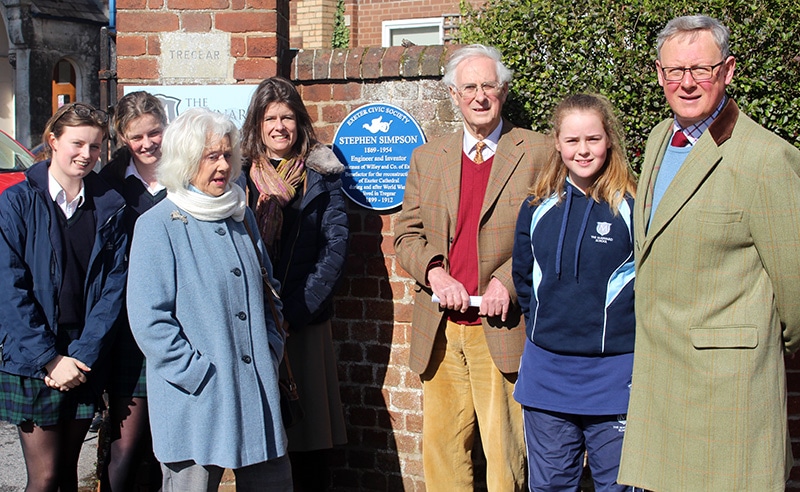 We marked a huge historical moment on Thursday 7 March 2019 with the official unveiling of the Exeter Civic Society's blue plaque to honour the life and work of Stephen Simpson who lived in Tregear (housing the Art and Music Departments) from 1899-1912. This was particularly significant as three of his great, great grandchildren attend the school and his great granddaughter works here – all of whom were able to join in with the celebrations.
Mr Simpson was an incredibly philanthropic man although he is perhaps most celebrated for inventing the 'coin feed mechanism' (or slot machine) for prepayment gas meters in 1893-1894. Subsequently, he moved down from Mansfield to work for the Exeter-based firm, Willey & Co Ltd, in producing these, becoming chairman for many years. In total, the firm patented 200 of his inventions and a number of these are still in use today.
During the post-war era, Mr Simpson was the biggest employer in the area, bringing hope and an income to a vast number of households. Many of the foundry's workers came from the poor West Quarter and could walk to work but when the slums were cleared in the 1920s and 1930s the population moved away to modern council housing in Burnthouse Lane. What did Mr Simpson do to help them to get to the factory? He built the Trew Weir pedestrian suspension bridge across the River Exe so they could carry on walking to work. He was also a major benefactor for the reconstruction of Exeter Cathedral during and after the bombings of World War II. His good work and philanthropy was recognised at the time by the Royal Household who offered him a knighthood but he declined this on the grounds that, "I want to die plain Stephen Simpson". We are so incredibly proud to honour his memory.