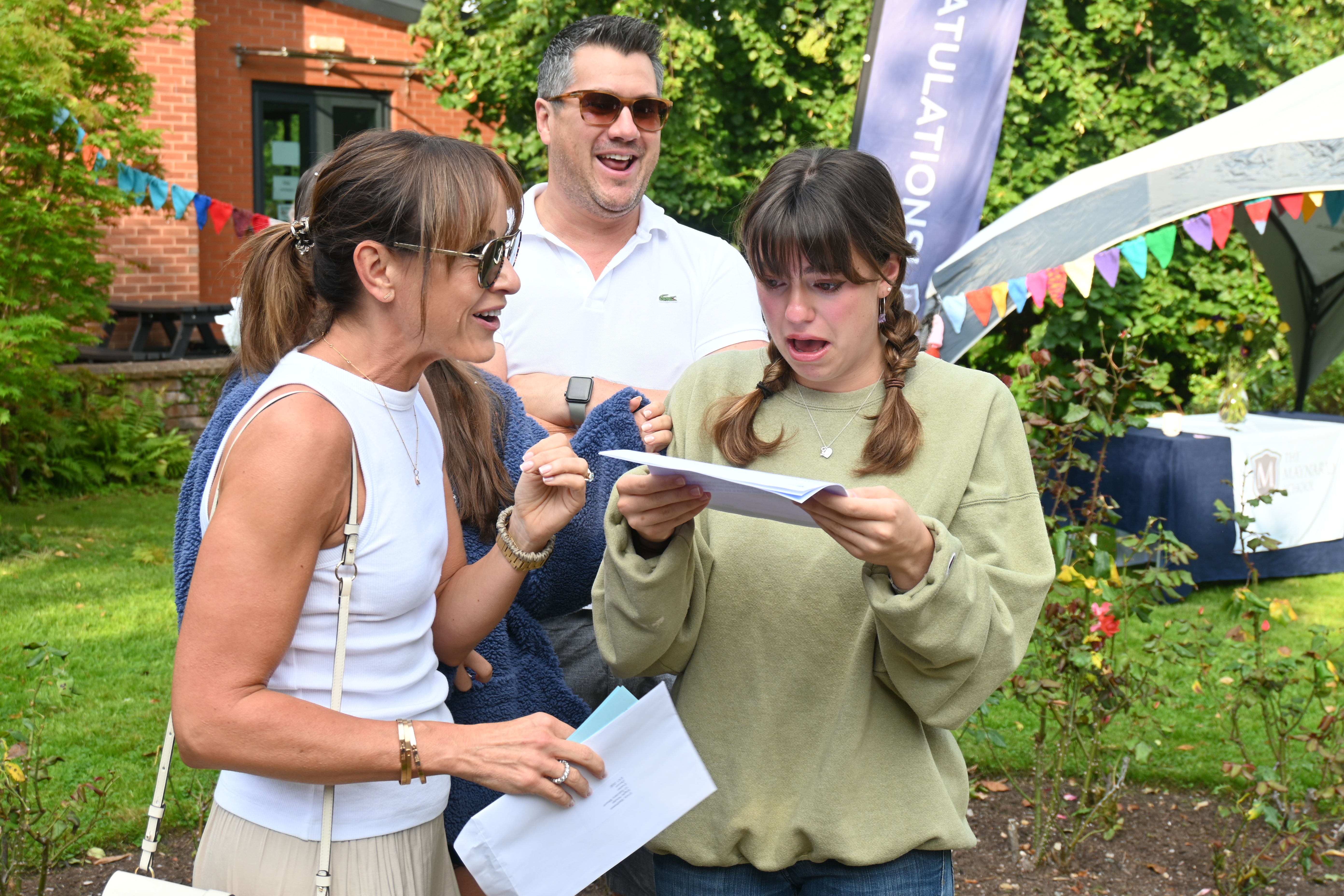 Students at The Maynard School in Exeter have absolutely smashed it once again with several scoring a clean sweep of A* and As in their A-levels and, most crucially, the vast majority gaining their first choice at university.
"It is quite remarkable what these girls have achieved and I am so proud of each and every one of them," said Liz Gregory, the Head at this leading girls' school. "I'm delighted that all their efforts and hard graft have been duly rewarded and am thrilled that they are now fully equipped to go off and start exciting new chapters in their lives! These are richly deserved rewards for a hardworking and fabulous cohort. A very well done to them all!"
KATIE: HIGHEST SCORE IN 72 YEARS OF ENGLISH A-LEVEL AT THE MAYNARD!
As an academically selective school renowned for its exceptional results, we don't often see new records being made but Katie did just that in her English Literature exam when she scored 40 marks higher than the A*/A boundary. Put simply, this means that even if she had missed one entire English paper, she would have still achieved an A*. Not to mention that she also got A*s in her Drama and History exams on top of an A in her Extended Project Qualification.
"I was not expecting this at all! I was really nervous as my UCAS didn't load this morning and all I received was emails about clearing so I thought I must have missed all my grades. So, this is totally overwhelming but it's really nice to see that all the work I've done has finally paid off."
Katie "can't wait" to head off to Durham University next month to read English whilst also joining lots of clubs including drama and football. "Mr Wood and Mr Loosemore have had to put up with my slightly questionable football skills in the past and I'm really excited to be continuing with the sport at university!"
CHLOE: BLIND STUDENT SECURES SCHOLARSHIP PLACE AT ST ANDREW'S
"It's a dream come true," says Chloe who, despite identifying as a blind woman, defied all the odds to achieve A* (English), A* (History) and A (Geography) on top of an A* for her EPQ and will now be travelling to St Andrew's where she will take up a full scholarship to read English. "It's all very exciting, especially as I somehow managed to smash all my predictions! I'll be off in two weeks as they want me there earlier so we can make sure all my access arrangements are in place before term starts.
"These last two years have definitely been a period of growth; I have really enjoyed being in an all-girls school as it's been such a nurturing place and you really have a sense of community spirit. The support staff have been completely amazing and the SENCo worked tirelessly with me to have a system in place given my visual impairment. I think that finding out my best way of working (through lots of trial and errors) is the main thing that I will be taking away with me. It's all down to the incredible support network at school and I'm so grateful to them for helping me to develop this in time for my exams. It's definitely been a challenge, but I think I'm now much stronger and more resilient than ever."
THE MULTI-DSCIPLINARY TALENTS OF OUR BUDDING MEDICS
Proving that Maynard students are multi-talented across numerous disciplines is Evie who achieved a clean sweep of A*s in Biology, Chemistry as well as History. She also secured a further A* in her Extended Project Qualification, which she chose to focus on Altitude Medicine "because I do a lot of mountaineering outside of school".
"I completed a mountaineering course for my Gold Duke of Edinburgh last year and I'm looking forward to doing the Original Mountain Marathon in Snowdonia during October."
Evie will be heading to Oxford to read Medicine, something she has always seen as the ultimate goal. "I am so thrilled and so grateful for all the help that I have been given. Sixth Form at The Maynard has been amazing – just brilliant – and I couldn't recommend it enough."
Likewise, Emily, another of our budding medics proved her talents across the Arts and STEM subjects, with an A* in English on top of two As in Biology and Chemistry. She will be off to read medicine at Bristol University next month. "This is a goal that I've had forever and it's finally happened," she said, "Without doubt, it's a dream come true."
"HONESTLY, I WAS TERRIFIED"
In the build-up to Results Day, nerves were excruciatingly high amongst students and possibly more so than ever given the prediction of a steep decline in the highest grades. Ellie confesses to have been "terrified" and unable to sleep the night before – a sentiment shared by so many in her year group.
"It's been a very unusual year in terms of what to expect and you can only imagine what these girls have gone through over the last couple of days," the Head, Liz Gregory, explains. "For it to be so widely acknowledged that grades would dip by quite so much this year made for unprecedented anxiety and nerves nationwide. Full credit to them all for coping so well in such unknown territory – we couldn't be prouder not only of their brilliant grades, but for the dignified and calm way in which they have handled so much pressure. I must also wholeheartedly thank all the staff and wonderful, inspiring teachers who have been so absolutely instrumental in these successes."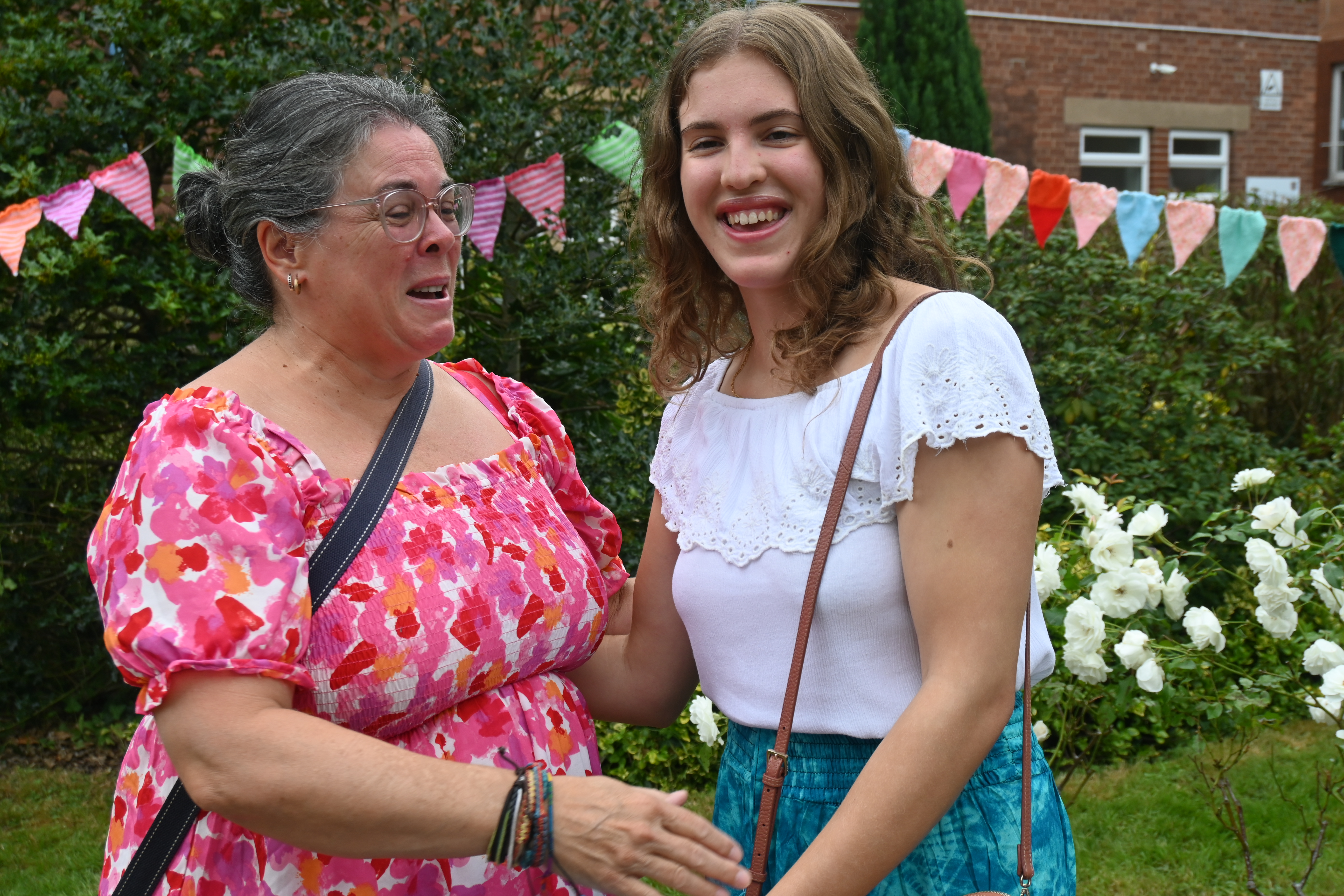 Chloe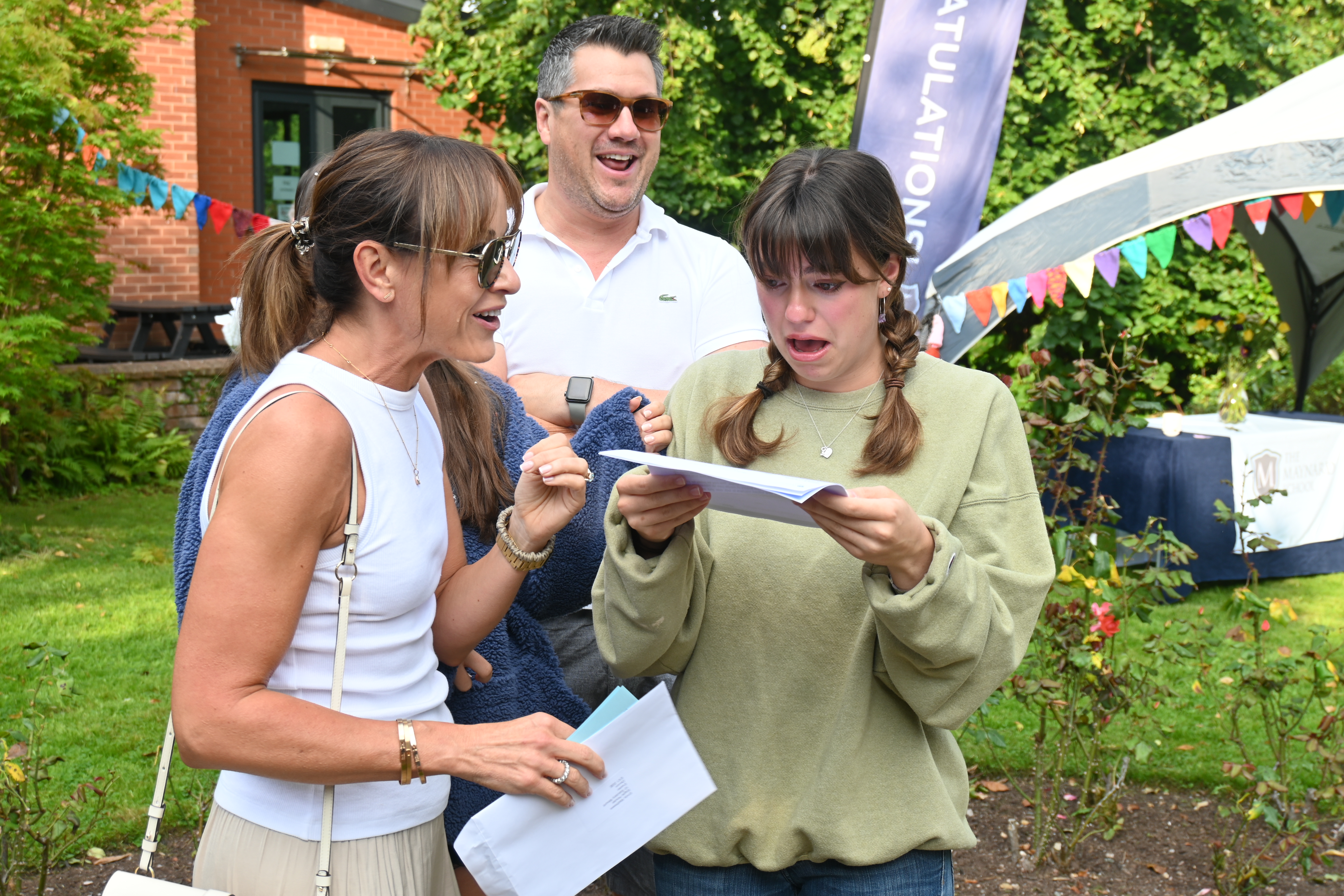 Emily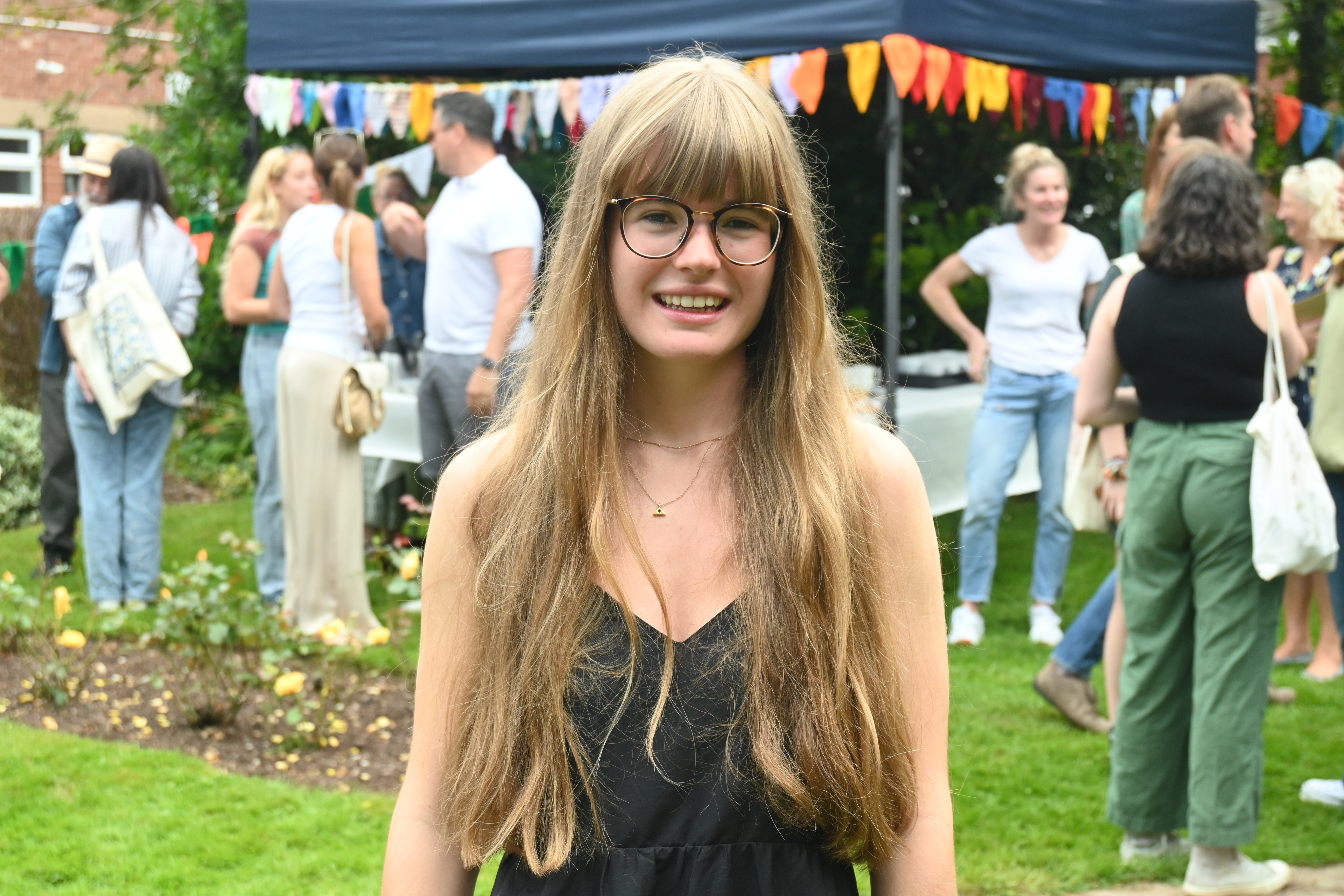 Evie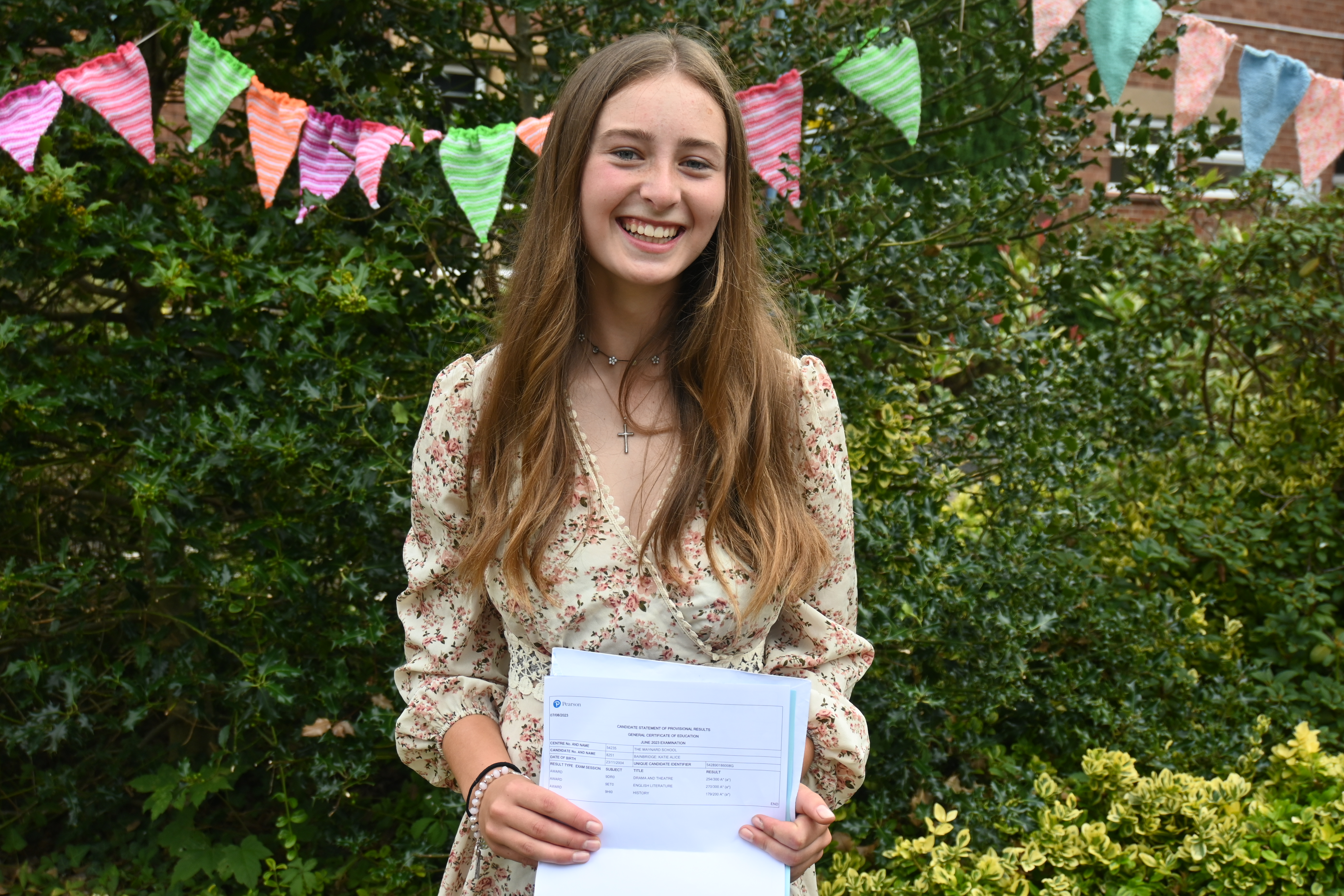 Katie