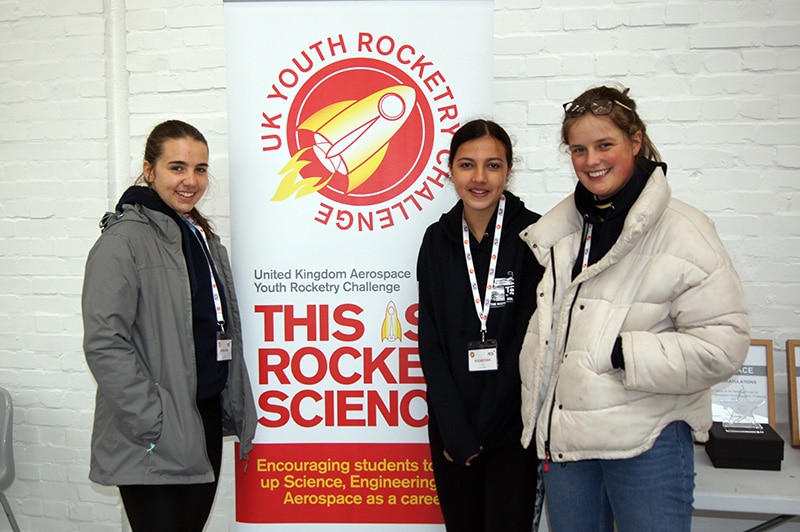 We are extremely proud of our Rocket Club team who qualified for the UK Youth Rocketry National Finals in Lincolnshire on Wednesday 8 May 2019 having designed, built and perfected their own rocket in their weekly after-school club. They acquitted themselves superbly although the inclement weather(hammering rain, low cloud cover and strong winds) meant that not one rocket was fired at the competition!
Instead it boiled down to a land based and 'Wet Rules' contest that scored each team on their previous qualifying flight at the regional finals, their log books and a 10-minute presentation in front of a panel of judges. This was somewhat disappointing given the girls had spent much time planning the various engine motor combinations they would install this time to achieve the correct altitude and this cunning plan, mixed with some clever modifications to the rocket itself, looked sure to stand them in excellent stead for a very competitive flight. But Mother Nature had other plans!
However, we must extend massive congratulations to the team of Isabelle, Mia and Alice who scored a perfect 10 out of 10 for their presentation – testament not only to their ability to talk 'technical' about all that they have learned during the course of designing and building their rocket, but also to their enormous character and sense of fun. As Mr Ibrahim, team manager and the weekly Rocket Club leader, explains, "If only they had the chance to fly after their upgrades then I'm sure they would have been in line for one of the top prizes." However, a perfect scoring presentation at a national competition is something of which they can be incredibly proud!